Email Us
Or use our form: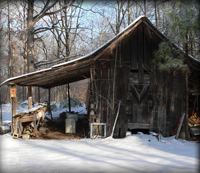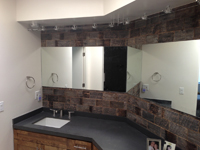 Grey Board Bathroom Backsplash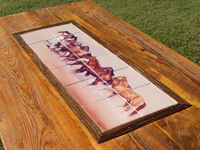 Beautiful heartpine farm table with wild horses tile inlay.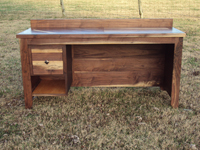 Here is a custom built desk made from antique walnut lumber.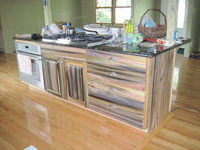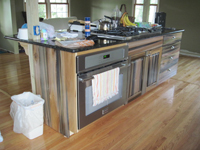 Very rare old growth purple poplar used to make kitchen cabinets and kitchen island.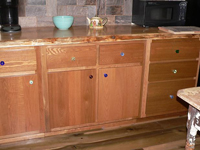 Kitchen Backsplash Barnwood Bricks and Slab Countertop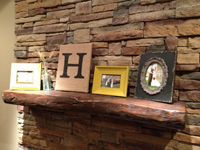 Mantel Hewn Beam

Barnwood Bricks ®
Interior Decorating Ideas - Rustic Arts and Crafts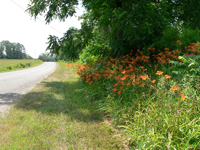 No matter what road leads home, whether it's a winding country lane or a bustling city street, your home is your oasis. It's the place you should feel the most comfortable, and it should reflect your style and personality. Knowing where to begin can sometimes be a little daunting. We invite you to use the ideas on this page to jump start your creativity. Take a look around at some great ideas for projects that can be created using reclaimed lumber, BARNWOOD BRICKS ®, and other barn finds. Anything can be reused and given new life if you just look at it from a different point of view.
Whether it's a custom mantel, coffee table, countertop, farm table, or a unique idea that is all your own, give us a call. We can build it, find it, or supply the lumber if you want to make it yourself.
Barnwood Bricks ®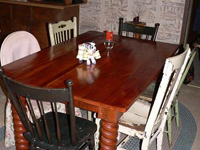 This beautiful table is crafted from antique cherry. Even the legs were made from cherry that had been stored in a barn for 80 years.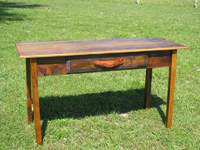 This spectacular piece was created from reclaimed poplar.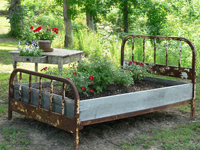 An old iron bed, forgotten and rusting in a barn loft, gets a new lease on life as a beautiful "flower bed". We planted roses in this one, so it's really a "bed of roses". The old shabby chic table with the peeling paint was discovered in a different barn. We'll bet it's previous owners never imagined it would have flowers planted in it someday.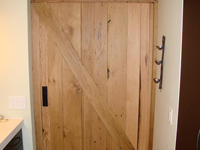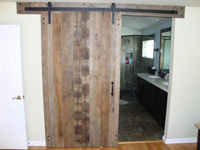 This beautiful rustic sliding barn door was built from reclaimed oak lumber.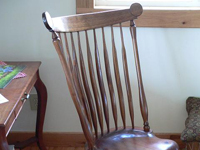 This is a men's tipping chair made from antique walnut.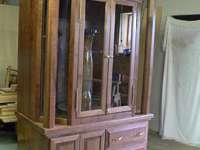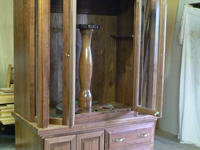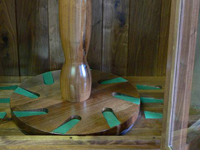 This handsome walnut gun cabinet was custom built right here in Tennessee. Each piece was built by hand with precision and accute attention to detail. Even the spinning pedestal was hand turned on a lathe. This is a stunning piece!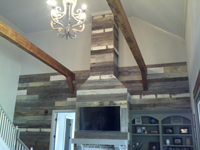 Newly installed gorgeous wallboard made from reclaimed gray barn boards and whitewash barn lumber.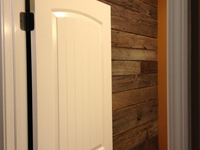 Reclaimed Greyboard Wall Bathroom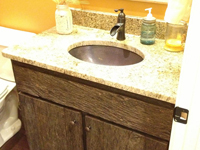 Grey Barnwood Vanity
We are proudly introducing our brand new line of Grey Board Barn Wood Furniture. This line features the weathered barn boards from the exterior of the barn masterfully transformed into furniture with a rustic elegance that is as beautiful as it is functional. The splendor of a walk in the woods is brought into your home creating a space that is cozy, comfortable, and completely you. We have these items in stock or we can custom build them to your specifications. Come back and visit us again. We will be adding more items in days to come.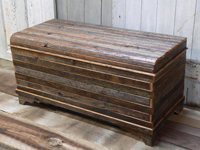 This elegant trunk would make a lovely old fashioned hope chest for some lucky girl, or the perfect storage place for cozy quilts at the end of a bed.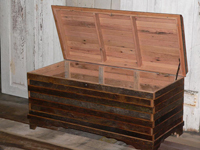 It is gorgeous from every angle and could also serve as a unique coffee table.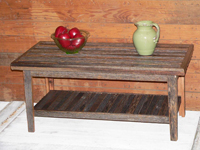 Masterfully made, this coffee table provides a storage shelf below as well as ample surface for decorations and doo-dads.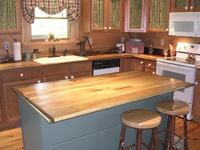 This inviting kitchen features countertops and an island top made from beautiful reclaimed poplar. The cabinet doors use a country floral fabric to add to the homey atmosphere of the room. The old hand pump mounted to the counter completes the feel of a bygone era.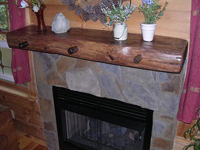 Old hand hewn beams from barns and old log cabins are transformed into the centerpiece of your room. This beam is oak complete with the old pegs from the original construction. We have an ever changing inventory of hand hewn and sawn beams in a variety of sizes and species to match any decor.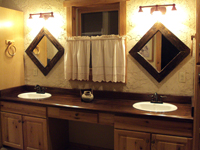 Antique walnut bathroom countertops and barnwood mirrors.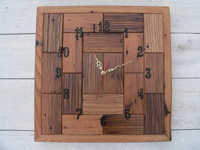 Take time to enjoy the incredible beauty of wood. Our wormy chestnut clocks will make you smile even when you are running late.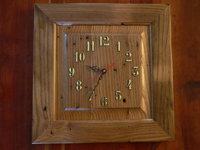 One is made from our patented Barnwood Bricks®. The other is made from reclaimed wormy chestnut that is spectacular in its own right. These clocks make the perfect Christmas, birthday, or wedding gift that will be treasured for generations.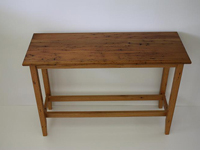 A gorgeous wormy chestnut table.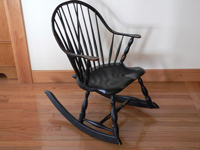 Extremely talented furniture maker does it again with this American Windsor rocking chair.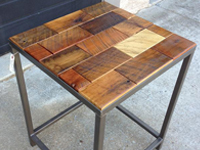 This charming end table is the perfect combination of rustic and contemporary style. Elegance with warmth, it is a mixture of hardwood species Barnwood Bricks ® on a metal base.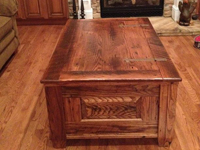 Classic Old World style make this combination coffee table and storage chest a timeless statement in any room. Notice the beautiful, large hinges and attention to detail in this piece made from reclaimed wormy chestnut.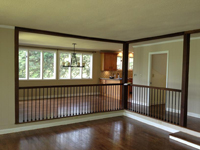 Walls were taken out and replaced with old reclaimed sawn beams.....hand rails and spindles also made from reclaimed lumber.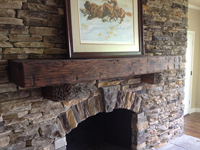 Another beautiful hand hewn beam fireplace mantel supplied by Barnwood Bricks ®.